Everything for crafting with kids
Everything for crafting with kids
Ambassador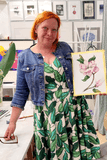 Iva Havelková
All my life, I've been crafting using various art techniques. Now that I have grandchildren, I enjoy crafting with them. We create whatever we can, depending on the seasons, but we also paint on stones. The kids play with markers, I prefer acrylic paints. The main thing is that we enjoy it together.
Basic information and frequently asked questions
Childrens' creativity should be supported from an early age. Crafting helps develop kids' imagination and improve fine motor skills. Children learn to discover new things, combinations and textures in a fun way. With the smallest children, it's possible to start crafting with various coloured pencils and paper or plasticine. Children who are a little bit older will then appreciate cutting using scissors, gluing, combining various types of paper as well as materials such as felt or moosgummi. Kids from approximately 10 years of age can try crafting using a 3D pen, macramé or pouring creative clays. Stringing bead bracelets, making keychains or crafting with ironing beads is also a great pastime associated with developing fine motor skills. Last but not least, all ages will enjoy painting stones, looking for which will enrich every trip.
Below we've put together some tips about what (or, better said, with what) you can create with kids of various ages. It's primarily an inspiration, as we know that every child is unique and therefore you shouldn't be afraid to tailor a specific project to their current abilities and needs.