Ambassador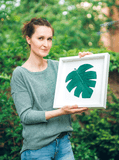 Ivana Sochorová (@ByYwusha)
I discovered macramé on a social network and it enchanted me so much that I ordered one straight away. It's intricacy made me want to learn it. I ordered the first material and started crafting. I try to create distinctive macramé so that everyone has their own original at home. I like using cotton cords of the highest quality the best. In macramé, you can find countless patterns, combinations of colours and decorations and that's what I enjoy most about this technique, its unlimited possibilities in crafting.

How to start with macramé
Basic information and frequently asked questions
Macramé or knotting is an age-old technique of weaving cords and threads. Combining different types of knots creates interesting geometric patterns. You can apply those on decorations as well as jewellery. At the moment, cords made from recycled cotton are the most popular material for making macramé. This material corresponds very well with scandi or boho style interiors. The most popular products are wall decorations and hangers for flower pots or lanterns. There are countless possibilities when it comes to products you can make from macramé cords.