Everything for candle making
Everything for candle making
Ambassador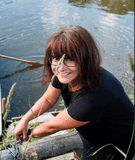 Marcela Dicker
Little flames and candle lights have always attracted me. That's why I decided to try out candle making. Appropriately chosen shape, scent and colour can brighten up, enliven and perfume every interior and that's what I enjoy so much. It's alchemy, even though it looks very easy.
Basic information and frequently asked questions
You see beautiful candles in shops, but none of them is exactly what you want? So why not make your own? It's easy! In our shop, you'll find everything you need for it. In addition to various waxes and wicks, here you can also buy silicone moulds, candle containers or special dishes and utensils. You can even make your own candleholders, for example from Jesmonite clay! Alternatively, you can try starter kits (which are also suitable as a gift) for all those who would like to test candle making first. You will find answers to various questions about candle making below.