Ambassador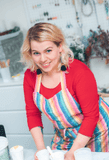 Zuzana Dobšíčková
I saw Jesmonite material for the first time at the beginning of 2021 thanks to foreign Youtubers. I was immediately impressed not only by the appearance of finished products, but mainly by how quickly it cures. It wasn't available here at that time so we started to strive for its distributorship. I really enjoy exploring the possibilities of combining Jesmonite with other materials - resin, acrylic markers or candle wax.

Video: How to craft from Jesmonite
Basic information and frequently asked questions
As the first ones in the Czech Republic, as an official distributor we'd like to present Jesmonite material. Pouring ecological resin with which you can easily make interesting decorations in modern minimalist or scandi style. Its advantage, as opposed to the crystal resin, is that you can take a finished smaller product out of a mould after only a couple dozen minutes! With Jesmonite, you'll achieve a super trendy terrazzo effect, marbling or color blocking. Make small decorations that will make you happy every day.