Everything for modeling metals
Everything for modeling metals
Ambassador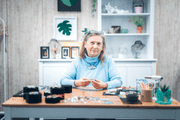 Jana Veselá
I've been working with metal clay since 2007 and during that time I probably tried everything that this material has to offer in my work. Thanks to that, I have a possibility to add to my jewellery everything I've ever dreamed about in jewellery. Spatiality, softness, rough strokes as well as precision, movement and dynamics. I am an Art Clay master instructor, so I can teach you that in my classes as well.
Basic information and frequently asked questions
Metal clay will enable you to become a jewellery maker in the comfort of your own home. What looks like ordinary clay before firing turns into objects of precious metals, like you know them from goldsmiths' counters or art galleries, after firing. However, there's no need to be afraid of difficult methods and the need for a lot of jewellery-making experience! With our help, even a beginner can make a piece of jewellery from a precious metal.