Everything for enameling jewelry
Everything for enameling jewelry
Ambassador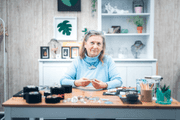 Jana Veselá
Enamel jewellery enthralled me many years ago. The effects that you can achieve on the surface of your jewellery using enamel will probably never stop fascinating me. And from the moment I discovered the possibility of combining enamel with metal clay, there are no more limits to my jewellery, just imagination.

Basic information and frequently asked questions
Enameling is one of the oldest techniques of colour treatment of jewellery. As early as Ancient times, people liked to adorn themselves using metal jewellery with colourful decor. Enameling allows us to make an enamel on the surface of a metal jewellery piece - at high temperatures, glass crumbs melt into a shiny, smooth surface in which we can make amazing colour effects. With a little skill, you can try it at home too.