Everything for baby accessories
Everything for baby accessories
Ambassador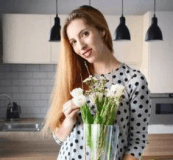 Barbora Bláhová (@Hometure)
I have a small child but at the same time, I like design. I didn't want to decrease my standards and disrupt out interior with gaudy colours that baby accessories often have. That's why I prefer making accessories as well as toys for my daughter by hand. In natural colours, just as I like it.

Video: How to make accessories for babies
Basic information and frequently asked questions
Everything for baby accessories offers a wide range of products for making accessories which mommies as well as babies will definitely appreciate. From nursing or, in other words, teething or babywearing silicone or wooden beads to teethers and rings, in this category you'll find everything for making not only trendy jewellery for moms but also, for example, for stroller chains. You can also make a personalised dummy chain for your little one with their own name thanks to beads with alphabet letters. We offer all the products in a wide variety of colours including various materials – from metal clasps that hold no matter what to silicone clips that you can easily clean up. In addition to all that, in our e-shop you can find sturdy nylon satin cord and very popular plastic click-on box clasps. Silicone beads are made from certified food grade silicone that is used, for example, for baking pans, so mommies don't have to be afraid if their baby puts the nursing beads in the mouth. You can find the certificate regarding the composition and health safety of the silicone here.