Everything for creative stationery
Everything for creative stationery
Ambassador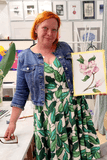 Iva Havelková
Actually, I've been around creativity, painting on various materials and crafting, all my life. I paint on fabrics, furniture, I tried oil painting, I've been obsessed with aquarelles lately. Using them, I fill frames on walls in my new home, but I also like painting cards for my loved ones.

Basic information and frequently asked questions
Paper and crafting with it accompanies us from the preschool age. Later on, folding, using scissors, gluing or decorating notebooks is added to childrens' drawings. Many people cannot imagine their lives without a pen and paper for taking notes or drawing and we get that!
Whatever you're creating, we believe that in our range, you'll find the right sketch pad, coloured, decorative or kraft paper, the right pencil, coloured pencil or charcoal and all the other necessities, such as scissors and cutters, rulers or washi tapes. So not only kids and their parents can enjoy crafting with paper, but everyone who decided to make a decoration from paper, an original scrapbook diary, a picture or a card for their loved ones.