Everything for crafting with crystal resin
Everything for crafting with crystal resin
Ambassador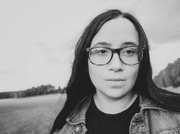 Tamara Koubková (@Tamarchi)
It's great to have components in your jewellery that are so similar to glass but without its weight and practically unbreakable. With crystal resin, I can even create original cabochons for my bead weaving.
Video: How to craft from crystal resin
Basic information and frequently asked questions
Everything for crafting with crystal resin offers all the necessary products and findings that are linked to this trend in jewellery making. From high quality crystal resin and accessories to frames and settings into which you can cast the resin. Take a look, for example, at the unique Nunn Design findings or in the silver and gold-plated findings for resin category. In our range of products, you'll find our own range of crystal resin thanks to which you can create jewellery from glass-imitating castings, or you can choose resin for glazing that will serve you well for casting components with special settings, as well as products from Cléopâtre resin producer that also offers flexible resin that you can use to make unique elastic jewellery. You can cast resin almost everywhere and you can embed your favourite symbol, for example, into castings, so don't forget to take a look at other silver findings as well as Amoracast, TierraCast and OmegaCast findings.